Main Menu
HOME
NADA YOGA
AMBIENTI SONORI
VISUAL SOUND
MUSICA LIVE
INDIAN MUSIC
UTILITA'
AREA RISERVATA
---
Contact Us
You Tube
Eventi
La Meditazione del Suono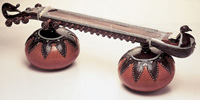 ---
info@nadayoga.it
Venerdì, ore 20.30
7 marzo 2008
CONFERENZA
"LA MEDITAZIONE DEL SUONO"
Aspetti Fisici e Metafisici del Suono e della Musica
Musicoterapia Occidentale e Orientale,
Presentazione del Seminario di Yoga del Suono
a cura di
Riccardo Misto
, musicista e musicoterapeuta
Domenica, dalle 9.00 alle 19.00
16 marzo 2008
SEMINARIO


di Yoga del Suono e Canto armonico
SPAZIO CON TATTO
PADOVA
- via R. Marin 14
spaziocon.tatto@gmail.com
Cosa porta l'intimo piacere e la passione di un musicista a

curare con la Musica

? Cosa lo spinge a viaggiare in Oriente alla ricerca delle origini del Suono, incontrando in India maestri come Vemu Mukunda, a studiare testi filosofici, ad affrontare nuovi "

strumenti

" e lavorare con musicisti di vari Paesi, ad esplorare modalità insolite di usare la voce? Perché proviamo piacere, disagio, emozioni attraverso la Musica? Che relazione esiste fra la voce di una persona e i suoi stati emotivi? Cosa nascondono gli Hertz, vibrazioni emesse nell'etere e contenute negli oggetti e negli esseri animati? Che vibrazioni nasconde l'Universo a chi lo "ascolta"? E se esiste una sinfonia cosmica, qual è il nostro suono e ritmo interiore?
Nel corso della serata verranno illustrate e spiegate le strette relazioni esistenti tra la
vibrazione sonora
e il
mondo manifesto
, partendo dagli assunti di tutte le cosmogonie per arrivare alle più recenti teorie musicoterapeutiche. Un viaggio sonoro, attraverso
antichi strumenti musicali orientali
e particolari
tecniche vocali
, per conoscere gli effetti del suono e della musica su corpo e psiche, e capire come sia possibile usare tali mezzi per una profonda conoscenza di sé e per un'autentica evoluzione spirituale. Verrà inoltre presentato il seminario intensivo di Nada Yoga e Canto Armonico del 16 marzo 2008

PROGRAMMA SEMINARIO

BROCHURE CON TATTO
---
Riccardo Misto mentre suona la Vichitra Veena, accompagnato alla Tanpura da Silvia Refatto, durante la conferenza concerto.
---
Esempio di undertones tibetani
---
Canto armonico in stile mongolo (glottide)
Il Suono Sottile




---
info@nadayoga.it
cell. +39 328 2074908 * cell. +39 340 5415084 * Tel.+39 049 600491 * Via T. Vecellio 77, 35132 Padova (Italy)
---
VIDEO conferenza
---
Riccardo Misto ha introdotto un nuovo tipo di conferenza, denominato "
conferenza-concerto
", in cui gli argomenti trattati sono spiegati e illustrati servendosi dell'ausilio di performance musicali (utilizzando strumenti orientali e occidentali), e di proiezioni video (visual sound): ciò permette al pubblico di comprendere meglio i principi esposti e rende la conferenza più leggera ed interessante, fruibile anche dai non addetti ai lavori.
IL SUONO SOTTILE: conferenza concerto sugli aspetti fisici e metafisici del suono e della musica
a cura di Riccardo Misto e Silvia Refatto
Nel corso della conferenza-concerto, Riccardo Misto illustra i fondamenti teorici della musica orientale,suonando antichi strumenti tipici dell'India e cantando con la tecnica degli overtones (armonici), conducendo così lo spettatore in un affascinante "viaggio sonoro". Vengono rivelate e fatte sperimentare alcune antichissime tecniche del Nada Yoga (yoga del suono), millenaria disciplina indiana e tibetana che presuppone l'origine vibratoria, e quindi musicale, di ogni essere del creato. I mandala sonori commentano visivamente i vari aspetti scientifici e musicali proposti nel corso della conferenza. Si tratta della proiezione su schermo del movimento di particelle colorate di polvere licopodica, disposte sulla pelle di un grosso tamburo circolare che viene messa in vibrazione con il canto armonico.
Tale esperimento, che rientra nella cimatica (la scienza delle modificazioni della materia mediante le onde sonore), permette di verificare il potere della voce e di assistere ad uno spettacolo affascinante e coinvolgente.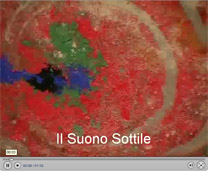 IL VIDEO: MANDALA SONORI
---
LINK Blog di musicoterapia by Paolo Alberto Caneva
---
CONFERENZE
---
Lo sguardo scuro

---
info@nadayoga.it
cell. +39 328 2074908 * cell. +39 340 5415084 * Tel.+39 049 600491 * Via T. Vecellio 77, 35132 Padova (Italy)
---
Associazione Settima Zona
in collaborazione con
Comune di Padova , Quartiere 4 Sud-Est Commissione Cultura, Amnesty International
presenta
LO SGUARDO SCURO
giovedì - ore 21.00
6 marzo 2008
Padova
Porto Astra - Fronte del Porto
via S. Maria Assunta 20
INGRESSO LIBERO
"Guardare la vita da dietro un velo non è poi così diverso da guardarla a viso aperto."
Narrazione itinerante tra Europa, India, Africa, Afghanistan, Iraq e Sud America, accompagnata da tracce sonore e passi fotocromatici.
Carla Stella
: Voce recitante ed elaborazione testi
Riccardo Misto
: Musica in scena
Dante Felpati
e
Francesco Breda
: Luci e fonica
Testi di:
Angela Mastretta
Wislawa Szyborska
Carmen Yáñez
Inaam Kachachi
Assia Djebar
Manjula Padmanabhan
Vishwapriya Iyengar
Kishwar Nahid
Ziyagol Soltani
Carla Stella
Attrice, regista e performer, da sempre interessata alla poesia e alla letteratura, porta avanti una sua visione cercando di creare un percorso continuo nel fare artistico, avvalendosi della collaborazione di musicisti, artisti, danzatori, video-flm makers. Dal 1988 lavora per teatro, cinema e televisione. Nel 2001 viene premiata come miglior attrice al Forum internazionale di Vilnius (Association of Lithuanian University Theatres). Nel 2003 cura testi e regia delle proprie produzioni teatrali.
---

---
FROM THE WEB
Cortometraggio dalla performance "Lo sguardo scuro" di Carla Stella, con la musica di Riccardo Misto
---
Remember Massimo
Riccardo Misto

suona

Massimo Perin
Oltre che esperto e tecnico della ceramica (di cui conduceva un laboratorio presso il Ceod V.S.A., dove tutti e due lavoravamo), Massimo Perin era un musicista e compositore: nel 1995 mi propose di inserire il sarod, il liuto indiano che suono abitualmente, in alcune composizioni da lui realizzate al computer con strumentazione elettronica digitale. Dopo un po' di esperimenti in questo senso, avevamo composto assieme due suggestivi brani, in cui le sonorità sintetiche ed elettroniche create da Massimo ben si sposano con suono antico eppur sempre attuale del sarod indiano:
Holokolauko
(che ho ribattezzato "
Life is everywhere
") e
Garden.
Purtroppo non c'è stato il tempo per continuare questo progetto, che sono sicuro avrebbe dato sempre migliori risultati: nel 1999 Massimo è morto prematuramente, stroncato da un tumore.
Sono comunque felice di aver potuto collaborare con lui e suonare il sarod per queste composizioni, che ancor oggi trovo molto interessanti e con un fascino particolare.
Per l'occasione ho realizzato due nuovi mixaggi dei brani originali, apportando alcuni tagli e aggiungendo qualche effetto: non avendo a disposizione le tracce separate, ho dovuto lavorare sul master finale, con tutti i limiti che ciò comporta.
Ho poi voluto completare questo omaggio a Massimo inserendo i brani su due video elaborati con mia moglie Silvia Refatto.
HOLOKOLAUKO (Life is Everywhere)
---
GARDEN
---
RICCARDO MISTO PLAYS JOHN MCLAUGHLIN
---
FLOATING SAROD
SAROD PAGE gb version

---
Riccardo Misto

plays

John McLaughlin: seven pieces on Sarod
The project was born occasionally, looking at a youtube video, in which guitarist
John McLaughlin
was playing "
Lotus Feet
" with
Paco de Lucia
.: I had in my hands my sarod and I tried playing along the theme. The effect seemed good to me and so I started working to realize a base on which perform the entire composition.
I had two possibilities: to start with a base played all by myself, or to make a new version, but using the existent original tracks. I've opted for this last idea, for its interesting and stimulating project.
So I've chosen some portions from the live recording "
Remember Shakti
" (the CD where
Hariprasad Chaurasia
was on bansuri). I had to cut and paste, choosing the moments in which, if possible, there was only a base of tabla and guitar, copying it and creating in this way a fundamental track, on which later I've added another track with a 12 string guitar playing the theme arpeggio. Then, with my sarod, I've performed the composition and one impro.In the beginning you can hear McLaughlin's voice
"I'm dancing at the feet of my Lord- all is bliss-all is bliss
" from first Shakti CD of 1975, where there was "
Lotus Feet
".Then, the video I've realized is made with some indian pictures particulary significant to me: a series of Ganesh playing different instruments that I've taken from partho Sarothy's (my sarod teacher) home in Kolkata; images from my holidays in Puri (Orissa) with photos and video of
Konark Temple
;a short film with a odissi dancer in Bubaneshwar (always in Orissa); images of Jagannatha Deities and religious pujas. There are also short films from a concert with my jugalbandi group "
Sapna
", some images of sarod from a poster found in a little music shop in Kolkata and some McLaughlin's images from Shakti album. All the video atmosphere is very close to cultural and spiritual aspects of India, considering the spirit which is inherent to "Lotus feet" track.
---
This first experiment was quite good and so I was looking for others composition of John McLaughlin where could be possible to extract some portions of track and manipulate them for realize a base on which to play the sarod. The project presented many problems: for first, the key, for the sarod is tuned in C. I needed compositions that could be compatible. Many Shakti compositions, indeed, are in the key of E. This is the reason for which I had to transpose the tonality in F, so to make it more adapted to the sarod. With a digital processing I've then altered the original tuning: this happened to
Peace of Mind
(from Shakti CD "
Natural Elements
"). For this composition I've used the integral recording, only adding some swaramandal arpeggios, a long reverbered part with electric guitar, a tibetan bell and some natural sounds (birds and cicada).
---
For
Zakir
I've put together three different versions of the song: as introduction I've chosen the one with the guitar of John from CD "
Remember Shakti
", mixing it with a portion of
Kathia Labeque's
recording with the piano. Then the track goes on with a sampled tabla base, on which I've added a electric 12 string guitar, playing the two chords on which I've improvised with my sarod. As a final coda I've insert a further version of the theme, taken from CD "
Making Music
", with Hariprasad Chaurasia's flute, mixed with a portion of the piano version. Cause of the little differences in tuning that all the versions used presented, it's been necessary a precise fine digital tuning work, to make uniform the piece.
---
La Danse du bonheur
(from CD Shakti "
A hand full of beauty
") presented the same transposition problems (from E to F). For the improvisatory section I've created a new rhythmic structure with the tabla sampled from a live unpublished performance of
Zakir Hussain
with
L.Shankar
: in the end it is overdubbed at the original base, with a lightly modified ending, made with an overdubbing of two different portions, with a classical thiai (repetition for three times of a musical phrase). During the entire composition I've also added a synt drone and a section with the 12 electric string. The song it's been slightly slowered in time to make more comfortable the performance on sarod. Always for a better fingering, I've altered one note in a very difficult passage for the sarod, but without changing at all the musical sense. The images of the video are from "Jalsaghar" (The Music Room), a Satyajit Ray's film (1958).
---
Meeting of the Spirits
(from CD "
The Inner Mountain Flame
") it's been transposed from the original key of F# to G, always for a better response on the sarod. I've taken and mixed different sections of the original recording, adding some segments played in a reverse mode, the longer of which is present in all the solo portion, giving a particular effect of tension and pathos. It's been also added a track with electric 12 string playing the basic arpeggio, one of sarod with an "ostinato", originally played by the violin, and then another with a live drum set played by myself.
---
Making Music
, a very beautiful composition from Zakir Hussain's CD, has been arranged extracting a beginning and ending part with the main theme: the tonality has been digitally processed transposing it from original key of E to F, and in the middle section I've inserted a sampled track of tabla (adapted in speed) for a short sarod solo. For all the song there is a tanpura drone, extracted from a Shivkumar Sharma recording, digitally altered from original key of D into F.
---
The Wish
(from CD "The Promise" with the sitar of Nishat Khan, the tabla of Zakir Hussain and the drums of Trilok Gurtu) has been processed lowering it by ½ tone so to reach the DO of Sarod: for intro and ending sections I've used the very similar sea weaves sounds from my recording "Mykonos" (from 1992 CD "Giochi d'Acqua"). The background drone has been realized putting together short synth portions I've extracted from original track, also adding a tanpura sampling on raga Yaman, from Kolkata sarodist Partho Sarothy's CD "Tribute to Australia". For the solo section I've created a track with sampled tabla (growing the speed to make it equal to the song tempo), to which are overdubbed the tabla played live by a Indian maestro who wanted to be anonymous.
In this video, the last of the series dedicated to sarod and John McLaughlin compositions, you can see the kind and extraordinary participation just of Partho Sarothy and his student from Austria, Alex Stroganov, who were at my home during the short Italian tour for two concerts in Vicenza and Padova, the 5th and 6th of may 2008. The video assembling was quite complex: I had to cut and paste different audio-video materials I recorded at my home in one day of work. I've added then, in a second time, my sarod tracks and the final result seems good to me. A very special thank to Partho Sarothy, who accepted this experiment that is so distant from traditional Indian classical music, but that he feels like an interesting way to have an effective and stimulating exchange between the two musical cultures of east and west. I hope we can go on and increase this collaboration: the short flashes in which you can see me playing the drums are in some way an advance of a project that, if everything will proceed right, could be a valid musical integration work. To know more about this go to
TABLA AND DRUMS CONNECTION page
---
For all the seven pieces there will be an introduction with some "Alaap" from the corresponding raga (based on the scale used in the composition). I'm still working on this, so I hope very soon it will be finished.

ENGLISH VERSION
Sito Statico
Cerca
Visite
We have received
21051379
page views since
1 Settembre 2007